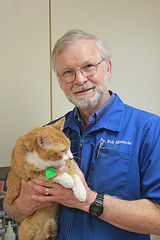 Veterinarian
Education: Kansas State University, 1980
Hometown: Arkansas
Special Interests: Companion Animal medicine and surgery
Dr. Rob Meinecke, the son of a veterinarian, was born and raised in Arkansas. He completed the pre-vet curriculum together with a BA degree in Psychology at the University of Arkansas before enlisting in the US Army in 1971. He served in the Army Security Agency and the Field Artillery until 1975. He then returned to school, at Kansas State University, where he earned a BS degree in Agriculture and, in 1980, his DVM degree. Dr. Meinecke spent the next 29 years in private practice in Galax, Virginia, where he pursued his love of both farm animals and companion animals.
Dr. Meinecke lives on the New River in Grayson County with Harriet, his wife of 40 years. The Meineckes have three sons, one daughter, a foster son, two grand children, and a host of dogs, cats and horses.
Since July 2009, Dr. Meinecke has provided relief services in several veterinary hospitals in the piedmont and sandhills regions in North Carolina. In July 2012, he returned to Galax and now works Wednesdays, Thursdays and Fridays at Galax Veterinary Clinic providing small animal medicine and surgery services.