The Importance of Pet Veterinary Insurance
The American Animal Hospital Association explains that many pet owners are choosing pet health insurance as a way to plan for and cover expensive veterinary bills as veterinary technology advances and becomes more expensive:
Funding the Unexpected
"When the cost of quality medical care exceeds the family budget, pet owners are forced to incur burdensome debt or even euthanize their pets. For more than 70 years, the American Animal Hospital Association (AAHA) has been committed to saving pets' lives. We do not want any pet to face euthanasia, a compromised quality of life, or even death resulting from an illness or injury simply because of veterinary costs, and we believe high deductible pet health insurance is an excellent way to prevent that from happening.
Statistics show that pet health insurance is becoming increasingly popular in the United States. In fact, the number of American pets covered by pet health insurance has more than doubled since 2002. Still, far too many pets are uninsured, and every year, some are euthanized simply because their owners can't afford the cost of medical care.Don't let this happen to your pet! With several pet insurance companies and dozens of different policies to choose from, pet health insurance deserves your serious consideration.One affordable and practical type of coverage is called high deductible pet health insurance. This covers major illness, accidents and other medical needs you can't anticipate."
1"Ensuring Your Pet's Health." A Guide for Pet Owners from
the American Animal Hospital Association. 2010. Retrieved from
http://trends.aahanet.org/images/CustomContent/PetInsBooklet.pdf
What Is Pet Insurance?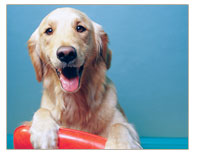 Pet health insurance helps protect you from unexpected veterinary expenses and ongoing medical treatments that arise when your pet becomes sick or injured. Whether your pet has several minor incidents or develops a serious medical condition like cancer, veterinary costs can quickly add up and cause serious strain on your budget.
Rather than determining the course of treatment based on how much you can afford to pay in veterinary care, medical insurance for animals allows you to determine the course of treatment based on what will be most effective for the health and happiness of your pet.
With pet medical insurance, you can rest assured that your pet will be taken care of so that you will never have to make a difficult decision regarding your companion's health.
Visit Trupanion's Website for additional information